Hill End Family History Open Weekend
5 – 7 May 2017
All you need to know:
Our program
Our tours & other activities
Our meals & food outlets
Our speakers
Accommodation
Things you definitely need to know
Our Program
Venues:

| | |
| --- | --- |
| Royal Hall, Hill End | Hill End Lodge Conference Room |
Friday 5

th

 May
Royal Hall: Free entry
Noon – 4pm: Hall opens for research, displays & access to research material
Hill End Lodge: ($5 entry at door)
Friday 3pm: A goldmine of information: the HEATGG website (includes handouts) –– Lorraine Purcell click here to read more
Hill End Ranch:
Friday 6pm: Casual BBQ at Hill End Ranch ($22 per head, vegetarian option available) Bookings now closed for this dinner.
BYO available
Saturday 6 May
Royal Hall: Free entry
10am – 4pm: Hall opens for research, displays & access to research material
12 noon – 1pm: Town Tour, leaving from the Royal Hall – Book and pay at Hall on the day ($10 per person)
Hill End Lodge: ($5 entry at door)
Saturday 11am: Researching your Hill End Goldfield Ancestors (includes handouts)– Lorraine Purcell click here to read more
Saturday  2pm: Chinese lives in Tambaroora and Beyond – Juanita Kwok click here to read more
Saturday 7pm: "Taste the Past" Multicultural Dinner, honouring the traditional foods of the early pioneers of the district. ($45 per head, vegetarian option available) Bookings now closed for this event
BYO available
Sunday 7 May
Royal Hall: Free entry
10am – 3pm: Hall opens for research, displays & access to research material.
10am Cemetery tour – Ted Abbott (depending on demand) Bookings to be made at Royal Hall on Saturday.
Tours & other activities around town over the weekend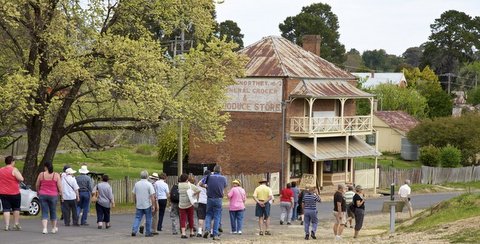 Historic Ackermann Cottage visit – special opening for this event.
Saturday 10.30am – 3.30pm: Ackermann Cottage will be open for inspection. Drop in and see how the ancestors lived. ($3 a head, pay at the door)
History Hill Museum – local privately owned museum Open 10am – 4pm on weekends. Contact 02 63378222.
Bald Hill Mine Tour – Step into an original 1870s mine shaft and experience early mining techniques. Book at Northey's Store or phone 0407187275
Gold Panning with Ted Abbott – by appointment – ring 02 63378251 for more details
Town tour – Saturday, 12 noon – leaving from the Royal Hall – a one hour tour of the town. ($10 per person)
NEW TOUR!!! Wisteria Cottage at Tambaroora – Sunday 10am – 1pm, See how this original miner's cottage is being lovingly restored. Mudmaps to this site  available at the Royal Hall on Saturday.
Food outlets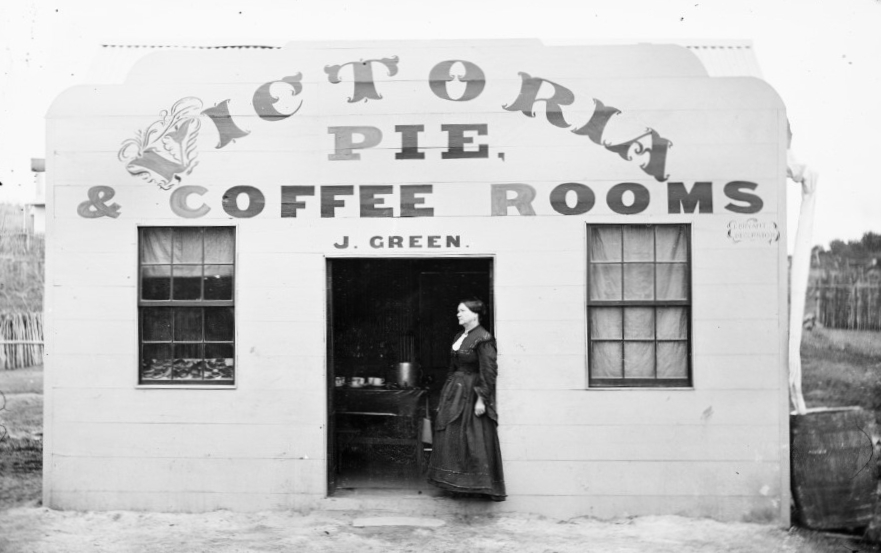 Breakfasts and light lunches are available at the Hill End General Store (9AM – 3PM) , the Royal Hotel and the Cafe at the Hill End Lodge. Feel free to bring a picnic lunch and enjoy it in the park. Boiling water will be available at the Royal Hall throughout the event.
Friday BBQ (Bookings now closed)
We are planning a casual relaxed BBQ at the Hill End Ranch, making use of their recreation room and open log fire to catch up with old friends and make new ones. Meat and vegetarian option will be supplied and it is DIY BBQ to your taste. Salad and dessert will also be supplied.
Multicultural Dinner menu (Bookings now closed)
SAMPLE MENU
certain dishes may change slightly depending on market supply…
LOUNGE AREA
KANGAROO STEAMER (Colonial)
(topped with rosella jelly served on sesame crackers)
WALNUT AND CHEESE WAFERS (Greek)
POTATO AND CHEESE PIROGI DUMPLING (Polish)
FIRST COURSE
CORNISH FISH SOUP (Cornish)
DAMPER (Australian)
MAIN COURSE
FRENCH ROAST PORK (French)
(marinated in thyme, cinnamon, nutmeg and cloves)
APPLE CHUTNEY
IRISH BOILED POTATOES
GERMAN BEANS
RED COOKED OXTAIL STEW (Chinese)
RICE
ORANGE AND MUSCATEL SALAD (English)
SCOTS EGGS (Scottish)
EGGPLANT MOUSSAKA (Greek Vegetarian)
DESSERT
CHOCOLATE AND ORANGE GUINNESS CAKE (Irish)
PEAR TART WITH STAR ANISE (Swedish)
CLOTTED CREAM (Cornish)
Our speakers:
Juanita Kwok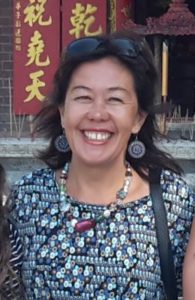 In her talk, Chinese Lives in Tambaroora and Beyond, Charles Sturt University PhD candidate Juanita Kwok will discuss what she has
uncovered so far in her research about Chinese lives in Tambaroora. Focusing on Chinese individuals and their interactions with the community in Tambaroora, her talk will introduce people such as Aheng, who was amongst 65 men returning to China from the Western Goldfields in 1857 when their ship was boarded and their gold seized by customs officials; elected Chinese interpreter William Sengchai and his Australian wife Hannah Price, well-known Hill End store owner On Gay and long-time Hill End resident Mew Chip. Join Juanita to learn more about the important contribution made by Chinese people to the Tambaroora and Hill End communities.
Juanita Kwok gained her BA at the University of Sydney before moving to Bathurst in 2008.
In 2013 she completed her Honours thesis at Charles Sturt University on the representation of Chinese in Australian feature films made in the White Australia era. She is the recipient of a Scholarship at Charles Sturt University to research a PhD on the history of Chinese in the Bathurst District between 1849 and 1953, and has been researching her topic for the last three years.

Lorraine Purcell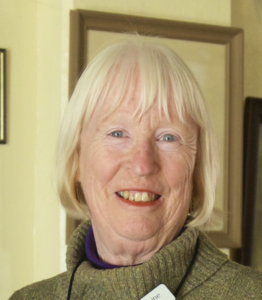 Lorraine was recently involved in updating the HEATGG website and so is well qualified to guide workshop participants in the best way of accessing the wealth of information that it holds. She knows the value of every one of the 220 pages of data and other resources. She is aware of many unusual records which may just help you put more flesh on the bones of the ancestors.
She is also a regular speaker at family & local history groups and has put together a presentation related specifically to researching pioneer ancestors in the Western Goldfields region.
Lorraine Purcell is a retired librarian with a strong awareness of the Australian history. She is very keen to encourage the preservation of this history and research for future generations. Her interest in Hill End arose many years ago when she used to go camping and fossicking there, little realizing that her great great great grandmother, Ellen Gaynon was actually buried in the local Catholic Cemetery. When she started doing her family history in the mid-1990s she established that her ancestors were indeed early arrivals on the Hill End goldfields.  Her training as a librarian has always encouraged her to freely share the results of her work with others holding a similar passion.
Lorraine has been convener of the Gathering Group for 10 years and during this time she has acquired a deep understanding of the resources needed to research Hill End and Tambaroora pioneers. She has shared this knowledge through talks to local family & local history societies. She has also helped produce a number of publications for the Gathering Group.
Accommodation
If staying for the weekend make sure you book your accommodation.
Plan your accommodation now; beds in Hill End are limited so make sure you book yours soon, to avoid disappointment.
Hill End Lodge http://www.hillendlodge.com.au/
Hill End Ranch http://hillendranch.com.au/
National Parks & Wildlife Service campgrounds. Powered sites available & Bookings not necessary.
http://www.nationalparks.nsw.gov.au/camping-and-accommodation/campgrounds/the-village-campground
Royal Hotel http://www.royalhotelhillend.com/accomodation/
B&Bs
As of 28 March the following B&Bs have accommodation available.  Book early to avoid disappointment.
Carla's Cottage https://www.tripadvisor.com.au/VacationRentalReview-g504251-d7628076-Carla_s_Cottage-Hill_End_New_South_Wales.html
The Guesthouse http://www.theguesthousehillend.com.au/
Northey' Apartment https://www.stayz.com.au/accommodation/nsw/explorer-country/hill-end/189547
We are grateful to the Hill End Arts Council and National Parks & Wildlife Service for their support of this Heritage Month event.

"The Australian Heritage Festival is supported through funding from the Australian Government's National Trusts Partnership Program. "
Things you definitely need to know which will help make it a great weekend (in no particular order):
Access to Hill End is now fully on sealed roads. Come via Mudgee, Turondale or Sofala and enjoy the journey. Takles approximately 1 hour from Mudgee or Bathurst.
It can get cold at night at this time of the year – bring warm clothing & pack a raincoat & a sun hat.
Footpaths haven't yet made it to Hill End. Be aware that many sites may have steps and uneven surfaces so wear sensible walking shoes.
Telstra mobile phone reception can be patchy at best. Optus reception is much better.
Hill End is a historic site. Access to some buildings may be limited because of steps etc so please let us know if we can assist in any way.
Don't forget the camera!
Be prepared to join in and share the experience. There are no strangers here, only friends we haven't met yet.
When in Hill End you are on "Hill End time". We aim to keep to the program timetable but we may need to be a bit flexible – it will all happen eventually…
Please be aware that this whole event is run by volunteers who are there to help you. We are only human but we will do our best to make this weekend a great experience.
ENJOY the experience! After all, your ancestors managed to survive here longer than you will need to!