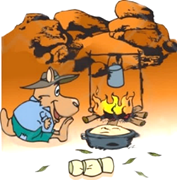 Taste the Past Picnic in Hill End
Saturday 20 October 10am – 5pm
With the "Betty Jeffree Camp Oven Scone Bake-off" commencing at 2pm with judging at 3.30pm.
Join us for a casual BYO picnic to celebrate the multicultural ingenuity used by our ancestors to provide a good wholesome meal to their families. There will be time for yarning and catching up with old and new friends and family.
As beds in Hill End are limited please consider booking your accommodation as soon as possible if you intend to stay overnight.
Perhaps your ancestor passed down a carefully preserved recipe book, or maybe it was a verbal procedure which has been religiously followed thru the centuries for special family celebrations.
Prepare it and bring it along to share and enjoy in the relaxed atmosphere of Hill End Lodge. Maybe there was a traditional cultural delicacy or recipe that was representative of their old way of life – Irish stew, Cornish pasties, Greek moussaka, German sausage, or Chinese stir-fry that you would like to embrace in order to remember their contribution to our gastronomic history today.
BYO Food & drinks
Picnic basket with plates cutlery & glassware etc.
Picnic chairs (we'll provide the tables)
Cooking equipment if needed and if you can – we'll have a couple of gas BBQs, a couple of spare camp ovens and the fire pit going
Copy of your recipe & a photo of the ancestor who used it.
The Betty Jeffree Camp Oven Scone Bake-off
This event will commence at 2pm with judging at 3.30pm. This is in memory of local cook and renown Devonshire Tea aficionado, Betty Jeffree.  Many of you may recall Betty's wonderful scones and afternoon teas in the grounds of Rose Cottage. When she passed away last year Hill End lost one of their iconic residents and we felt this would be a great way of remembering her legacy.
The rules are simple: There are 2 Categories – Plain Scones and Fancy Scones.
BYO ingredients
Scones must be completely prepared onsite from scratch however additives for the Fancy category may be prepared beforehand.
You can make as many as your camp oven will cope with however a minimum of 6 scones must be presented for judging.
Judges are "experts" in their field….(and can't be bribed!)
All entries to be cooked over the coals in the open campfire pit (unless there is a fire ban in which case we will go to "Plan B").
After judging the scones will be shared among those attending for afternoon tea and will be served with a cuppa and jam and cream for a small donation.
Lorraine is happy to answer any enquiries. Contact details are on the Contact us page on the website.
Check out all the information on this presentation (let the presentation run on its own, or use your mouse to click through the pages):